| | |
| --- | --- |
| | "Offer your soul..." |
Deception IV: Blood Ties
Japanese name
影牢 ~ダークサイド プリンセス~
Romaji name
Kagero ~Dākusaido Purinsesu~
Developer
Tecmo Koei
Publisher
Tecmo Koei
Release Dates
PlayStation 3 version

February 27, 2014 (JP)
March 25, 2014 (NA)
March 28, 2014 (EU)

PlayStation Vita version

February 27, 2014 (JP)
March 25, 2014 (NA)
March 28, 2014 (EU)

Genre
Action game
Game Modes
Single player
Ratings
CERO: Ages 17 and up
ESRB: Mature
PEGI: 16
Platforms
PlayStation 3, PlayStation Vita

Deception IV: Blood Ties, known in Japan as Kagero: Darkside Princess (影牢 ~ダークサイド プリンセス~), is a Deception game for the PlayStation Vita and PlayStation 3 by Tecmo Koei, and sequel to Kagero II: Dark Illusion within the Kagero series.[1][2][3]
The game is a revisit of Tecmo's 1996 PlayStation game Tecmo's Deception: Invitation to Darkness. As a game focused on strategy, the player aims to defeat enemies by luring them into a wide variety of traps.
Keisuke Kikuchi is the producer, and the main character designs are by Hirotaka Maeda.
Deception IV: Blood Ties comes out in Japan on February 27, North America on March 25, and Europe on March 28. Gameplay involves a bunch of traps built into it, like swinging razor blades and a pumpkin head you can drop on enemies.
Tecmo Koei's Deception IV: Blood Ties limited edition includes a code that adds three extra traps – a guillotine, UFO, and Queen High Heels (a humiliation trap). You also get an art book and Deception series sound selection CD. The limited edition costs 9,800 yen ($96) for PS3 or 8,800 yen ($86) for Vita.
A regular copy of Deception IV costs 6,800 yen ($66) on PlayStation 3 or 5,800 yen ($57) on Vita. First print copies include a Golden Horse humiliation type trap.[4]
In ages past, there was a being known only as "the Devil" who ruled the world through fear.
Eventually, the human race united and rose against him, and there soon emerged twelve Saints blessed with heavenly power who sealed away the Devil at last.
The incantation of binding used by the Saints was contained in a sacred text known as the Holy Verses. Fearing the incantation's misuse by malevolent forces in generations to come, the Saints erased the fact of their Sainthood from the annals of history, divided the Holy Verses into 12 fragments among themselves, and passed them down to their descendents secretly through the ages.
Since that time, 3000 years have passed...
And the Devil, never ceasing in his search for the descendants who hold the Holy Verses, has finally ascertained their whereabouts.
To aid in the collection of these texts, he spawned 3 servants who embody the essence of Elaborate Death, Sadistic Torture, and Humiliating Demise, and sent them into the human realm together with a "daughter" split off from his own soul.
Now all that remains is to undo the seal that binds him and visit his wrath upon the fallen human race...
Museum Mode
Edit
Uploading to YouTube
Edit
Before viewing a replay, you can choose to upload it to YouTube. If this option is chosen, the video will be encoded as you are watching, and uploaded once the playback is complete. During the playback you can move the camera freely and press buttons to play laughing, screaming, or cheering audio clips, which will all be reflected in the uploaded video.
Only PlayStation®3 version.
Cross-Quest Mode
Edit
Cross-Quest Mode is where you can take on missions downloaded from other players, or create your own to upload online. This is the place to pit your trap skills against other players around the world.
Free Battle Mode
Edit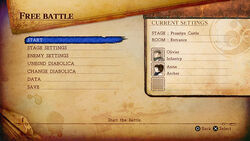 In Free Battle Mode, you can choose your own stages and enemies to battle with. You can choose enemy and stage combinations not possible in Story Mode, multiple enemies of the same character, or whatever else you desire. This is the best mode to test out new trap combos.
Here you can select the stage, room, and up to 3 enemies.
These are unlocked in Story Mode, so the further in the story you've progressed, the more options will be available.
Story Mode
Edit
Daemon Requests
Edit
Daemon Requests are mini challenges that your Daemons will issue in Story Mode. They are completely optional, and there is no penalty for not fulfilling them. If you do fulfill them, however, your Daemons will reward you with extra Exp. points for their trap style.
Mission Mode
Edit
Fulfill the objectives of each mission in order to clear it. These missions present a variety of challenges that require more advanced trap-setting strategy than Story mode.
Development
Edit
[3]
Famitsu previewed the upcoming game, giving new information, such as gameplay and characters. There is also a new trap in the game revealed to be "Wizard gear".
Going along with a "play more wickedly" hook, players are in charge of designing their own style of play. Traps can be set three at a time, and catching armored characters in consecutive traps will cause their armor to break.[5]
Along with the release dates for North America and Europe announced, Tecmo Koei revealed that YouTube uploading is available within the game. Only the PlayStation 3 version of the game will have YouTube uploading, with the PlayStation Vita version having additional touchscreen options.[6]
Producer
Keisuke Kikuchi
Director
Masaki Shibuya
Engineering Leads
Yuta Yamazaki
Koujiro Seino
Game Design Lead
Toshiaki Kubota
CG Director
Kazuhiro Shoji
Sound Director
Takashi Yoshida
Concept Art Lead
Tsutomu Terada
Character Art Lead
Nozomu Sugiyama
Environment Art Lead
Ryosei Muraki
Animation Lead
Katsuhiro Yamauchi
Technical Art Lead
Kenta Kawano
Visual Effects Design Lead
Jiro Yoshida
User Interface Design Lead
Hiromi Baba
CG Manager
Yasuo Egawa
Assistant Project Manager
Yutaka Koga
Engineering
Takeshi Sawatari
Masaki Fujita
Takashi Watanabe
Kazuki Iwana
Kenichi Saito
Haruhisa Ito
Game Design
Hayato Shibuya
Takayuki Nishikawa
Kyohei Ota
Masaki Toyoda
Character Design
Hirohisa Kaneko
Akihisa Kuramochi
Asami Yamamoto
Eriko Harada
Background Design
Masayoshi Wada
Michiko Hashimoto
Concept Art
Kaoru Kikukawa
Storyboard
Tsuyoshi Nihei
Character Art
Maki Kimura
Yoshiki Horiuchi
Tetsuya Ietsune
Yasuaki Suzuki
Kaori Watabe
Natsuko Kawakami
Hideaki Takahashi
Tomoko Hara
Kazuhiro Nishimura
Environment Art
Miyuki Momose
Hiriyuki Kato
Animation
Ryoji Abe
Technical Art
Naoya Okamoto
Masaru Ueda
Motion Actor
Kosuke Wakamatsu
Motion Capture Editor
Katsuyuki Shimizu
Yoshinori Kobayashi
Takaaki Kurosawa
Visual Effects Design
Kazuki Osada
Yuko Takahashi
Audio Design
Makoto Hosoi
Shigekiyo Okuda
Music
Yuki Matsumura
Ayako Toyoda
Guitar
Yosuke Kinoshita
Localization
Peter Garza
Brianna Forster
Supervisor
Makoto Shibata
Main Character Design
Hirotaka Maeda
Scenario Writer
Masahiro Yuki
Motion Actor
Tomohiro Nara
Motoko Nishibayashi
Image Song
「Princess of Fate」
Song: Daisy × Daisy
Lyrics: Daisy × Daisy
Music: YOW-ROW
Software Manual
Masahiko Kochi
Keisuke Okabayashi
Public Relations & Marketing Dept.
Hiroshi Murai
Hideyasu Matsuo
Art Work
Jyumpei Yamamoto
Logo Design
Natsuki Hirano
Kyte Sawatari
Web Design
Emi Yamamoto
Global Business Development Dept.
Hidekiyo Kobayashi
Takahiro Yamamoto
Minglu Li
Yumiko Katagiri
Mina Saito
Carol Suzuki
Global Marketing Dept.
Hiroshi Suzuki
Yasushi Tani
Hidetoshi Nakatsukasa
Tomohiro Tanimura
Riho Tsurumaki
Coordinator
Toru Akutsu
In Cooperation With
Planet G Co., Ltd.

AONI PRODUCTION CO., LTD.
MIT STUDIO

Himawari Theatre Group Inc.

Yuki Fuyuno

Red Entertainment Corporation

TEPPEN PRODUCTS inc.

DIGITAL WORKS Entertainment Inc.

Digital TIS CO., Ltd.

LandQ studios co., Ltd.

JIN

Rubicon Solutions, Inc.

Font Design by Fontworks, Inc.

Pole To Win Co., LTD.
Pole To Win Europe Limited

TECMO KOEI AMERICA Corporation
TECMO KOEI EUROPE LIMITED
TECMO KOEI TAIWAN Co., Ltd.

TECMO KOEI TIANJIN SOFTWARE CO., LTD.
TECMO KOEI BEIJING SOFTWARE CO., LTD.
TECMO KOEI SOFTWARE VIETNAM CO., LTD.
Special Thanks
Toshio Chigira
Natsumi Kaneko

Weekly Famitsu

Satomi Iwase / Dengeki PlayStation

Yoshinori Ueda
Kazuhiro Shimazu
Tatsuro Orikasa
Yuri Ito
Azusa Maki
Laegrinna
Yuka Saitō
Caelea
Umeka Shōji
Veruza
Hiroko Ushida
Lilia
Ichiki Chihiro
Dow
Daisuke Matsubara
Zeno
Shunzo Miyasaka
Gallagh
Sohta Arai
Vale
Ryosuke Kanemoto
Lyla
Kim Hyang Ri
Celia
Miku Yoshikawa
Evelyn
Madoka Yamanaka
Alma
Ayaka Maeda
Telma
Haruka Terui
Ernest
Hiromu Miyazaki
Victor
Masakazu Koshima
Freise
Yuka Komatsu
Additional Voices
Yusuke Handa
Yohei Azakami
Ryohei Arai
Hirokazu Miyahara
Akari Harashima
Shino Shimoji
Yuki Kaneko
Machiko Kawana
Reception
Edit
During the first week of release in Japan, the PS3 version sold 23,254 physical retail copies, whilst the PS Vita version sold 19,322 physical retail copies.[7]
Main article: Deception IV: Blood Ties/Images
This is the fifth game in the series, despite being credited as the fourth, and it is the third Kagero title.
External links
Edit
Community content is available under
CC-BY-SA
unless otherwise noted.