Gerald
Japanese Name
ジェラルド
Romaji
Jerarudo
Occupation
Knight
Status
Dead or Alive
Appearances
Kagero: Deception II
"Quit army to Join Red Blood. Relied on by Capt. Keith."
—Description
Gerald (ジェラルド, Jerarudo?) is an enemy from Kagero: Deception II. He is a warrior that quit the army and joined Red Blood. In Chapter 4, he and Rain enter the apparently abandoned Castle in the Forest to turn it into a battle site to ambush Timenoids.
When McLord is killed by Millennia, the two hear his scream and investigate. They ask Millennia why she killed McLord, the player having two answer choices: If Millennia says "To kill humans is my mission", they will attack her and be killed. If she says "There was no choice", Rain will apologize for McLord's acts and they leave Millennia's castle. If they are attacked while leaving, they will fight back and must be killed.
If they leave, they inform of McLord's death to Keith. Later, Matia tells Deadmoon that all the mercenaries that they lent to the Red Blood have been killed. It is unknown if Gerald and Rain were among them.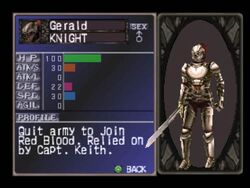 | Stat | Level |
| --- | --- |
| HP | 100 |
| ATK/S | 30 |
| ATK/L | 0 |
| DEF | 22 |
| SPD | 30 |
| AGIL | 0 |