Yocal
Japanese Name
ヨカル
Romaji
Yokaru
Age
Over 800 years
Hair Color
Black
Eye Color
Black
Occupation
Shinto
Status
Deceased
Appearances
Kagero: Deception II
"Though her beauty is rumored to be from lacking emotions, she once loved Eclypse."
Yocal (ヨカル, Yokaru?) is a character from Kagero: Deception II. She is a Timenoid and the foster mother of Millennia. By King Eclypse's order, Yocal raised Millennia as part of the "Marionette Project". In the beginning of the game, she gave Millennia the mission to kill any and all humans that enter the Castle in the Forest, inviting Daar to be her first victim.
Later in Chapter 25, Yocal must face Millennia. She can heal herself and use lightning to attack.
Yocal was responsible for kidnapping and raising Millennia at a very young age for the Marionette Project, claiming the clown Timenoid that she was entranced by, as well as her parents, were all murdered by humans. For fifteen years, Yocal trained her to use traps and taught her how terrible the humans were. When it was time to prove the success of the project, Yocal invited a person named Daar to the Castle in the Forest to test the trap-user, and Millennia succeeded in killing the human.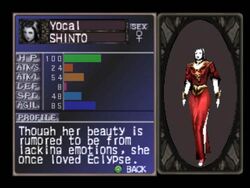 | Stat | Level |
| --- | --- |
| HP | 100 |
| ATK/S | 24 |
| ATK/L | 54 |
| DEF | 8 |
| SPD | 48 |
| AGIL | 85 |
References
Edit